Known Issues - Evora
Please fill this entry with known issues that are occurring with the Lotus Evora.
These are not necessarily common or guaranteed issues, just ones which have been reported by some owners.
Exterior
Cracked cosmetic roof panel
Although rare the cosmetic roof panel fixings can expand slightly with heat, leading to the boot clipping the panel when the boot is opened. Over time this can lead to the panel cracking.[1]
The issue is reported as being recognised by Lotus and is resolved by replacing the cosmetic roof panel and fixings.
Door lock issues
See thread.
Front Door Pillar Surround
On some earlier cars some of the front door pillar/windscreen surround mouldings were coming unstuck and had to be replaced.
Rear Light Chrome Trims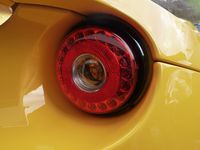 Chrome rear light surrounds on Evoras have a tendency to tarnish and lose their "chrome". Evora 'S' and 'SR' from MY12 onwards use a black painted rear light surround which does not exhibit the same issues and can be fitted as a replacement[2].

Interior
Interior Build Quality
Some reports of poor build quality on the interior, particularly in early cars.
Poor fitting passenger airbag lid
The clips which hold down the passenger side airbag lid can sometimes fail, causing the lid to no longer sit flush over the airbag module. These clips are designed to break when the airbag is deployed, and so the failure should not a safety issue and should not affect the operation of the airbag.[3]
These clips can be replaced to remedy the issue, however doing so involves removing some parts of the dash and given the implications of working around the airbag are best carried out by an approved Lotus Service Centre.
Recaro seat wear
The Evora comes equipped with Recaro Sportster CS seats as standard and there has been a report of these showing signs of wear even early in the cars life[4].
These seats are also used in other cars such as the Mk2 Ford Focus RS where they have exhibited similar issues, suggesting this is a quality control issue for Recaro.
Lotus appear to be willing to replace seats that have shown excessive wear under warranty, however this is not guaranteed.
Others have reported positive results using Gliptone Liquid Leather Scuffmaster to dye the seats where they have worn[5].

Mechanical
Clutch Master Cylinder
The design of the clutch master cylinder was improved upon for the Evora S, and can be retrofitted to the standard model if the original unit fails.
Some have reported rare case of failures of the early style clutch master cylinder leading to a change of clutch pedal feel, and an inability to operate the clutch[6].
Anti-Roll Bar Bushes
Anti-roll bar (ARB) bushes can dry out and cause knocking noises, particularly the front . Replacing these and properly lubricating them can solve the issue[7].
Gear Cables
Some earlier cars were reported to have less than accurate shifting, so the gear shifts were changed in the second half of 2010. However, increasing it's accuracy resulted in reports of some, over time suffering stiff or obstructive gear shifts, making some gears difficult to select.
If customers complain of poor gear shift quality then the cables can be adjusted both at the gearbox and gear linkage ends to improve gear selection, or replaced entirely. This is a 5 hour job as it involves removing parts of the interior.
For MY12 cars the cable set up was changed albeit at a cost to try and improve the consistency of accurate and smooth gear-changes. However, a well set up/adjusted pre MY12 will provide a similar feel.
For more information see the following forum threads:
Oil lines
Evora S only.
A recall was made for Evora S' built before September 2011 for a replacement to the three-piece oil feed pipe used to supply oil to the engine cylinder head after there were reports of failures resulting in engine loss and possible engine fires.
The pipe is replaced by a redesigned single piece item.[8]
Rear Tyre Wear
Rear tyre wear has been reported to be fairly high on many cars, even when driven conservatively. In general owners have reported rear tyres can need replacing after around 10k miles, while others have seen as little as 5k miles, although this obviously is affected by usage and driving style.
Transmission Noise
Some Evoras are reported as having higher than expected transmission noise at low speed in the lower gears, characterised by the sound of 'a rotating component binding on a metal casing'. Some owners have managed to get Lotus to address the issue under warranty, and others report that the noise is down to poor quality throwout bearings in the clutch.
Forum threads:
References