Interior - Exige V6
The interior of the V6-engined Exige S is very closely related to that of S2 Exige S, with some notable changes including the removal of the Start button to accommodate the DPM switch, the introduction of some new interior options and general quality improvements.
Standard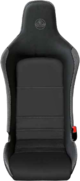 Only available trimmed in black cloth.

Standard steering wheel.

Limited carpet set.
Colour Swatches

Coupe
Premium Pack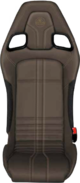 Choice of leather colours: Ebony Black, Venom Red, Ivory White, Ash Grey, Cocoa Brown, Cognac Brown, Imperial Blue

Covered foot well area (carpet + leather)

Premium steering wheel in full black leather

Leather sills

Door panels in leather

Sport seats in full leather

Trinket tray with divider and stowage mats

Leather dashboard area
Colour Swatches
Premium Pack Sport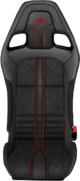 Sports seats in Ebony Black leather or Ebony Black/Slate Grey SuedeTex combination with carbon effect leather inserts

Leather or SuedeTex centre console

Premium Sport steering wheel

Door panels in leather or SuedeTex
Colour Swatches
Roadster
Premium Pack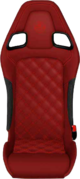 Choice of leather colours: Ebony Black, Venom Red, Ivory White, Ash Grey, Cocoa Brown, Cognac Brown, Imperial Blue

Covered foot well area (carpet + leather)

Premium steering wheel in full black leather

Leather sills

Quilted door panels in leather

Quilted Sport seats in full leather

Trinket tray with divider and stowage mats

Leather dashboard area
Colour Swatches
Premium Pack Sport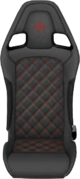 Quilted Sports seats in Ebony Black leather or Ebony Black/Slate Grey SuedeTex combination

Leather or SuedeTex centre console

Premium Sport steering wheel

Door panels in leather or SuedeTex
Colour Swatches
V6 Cup
Bespoke 'V6 Cup' interior trim
T45 steel main roll hoop incorporating 'A' frame, harness bar (optional front FIA bolt-in cage)
FIA approved fire suppression system
Internal & external battery isolator switches
Competition drivers seat with 4 point harness (Subject to approval in certain markets)