Interior Light
Interior Light
Elise Interior Light
S1 Cars
The S1 interior light is a 10W 42mm festoon bulb (Lucas 264), located low down in the centre of the fascia. The housing can be pulled out of the dash by depressing the plastic tab on the side. Take care, permanently live connections and an aluminium surround. LED replacements are available, of variable quality and brightness.
The housing itself is a Hella unit, and appears to be the same as used on various VWs (T2, T25 Camper, Mk1 Golf Cabriolet) and even the Porsche 924/944. Part no. 823947105B.
S2 Non Air Con Cars / Pre MY04
The interior light on poverty spec / boggo spec / pre MY04 cars is located just above the fan switches, it is unknown if the LED modification will work on this.
Please Add Info
S2 Cars With Air Con, or MY04 onwards
On early cars with air-con, or from MY04 onwards the interior light is located behind the seats.
And once again our resident handy man SELOC member Dobbin has this nifty little trick.
The standard unit is the same as the ones found in the Citroen AX and possibly other PSA models (SAXO/106, 306 etc). If anybody wants to buy one for a donor these can be easily found in a scrapyard
Remove the standard light housing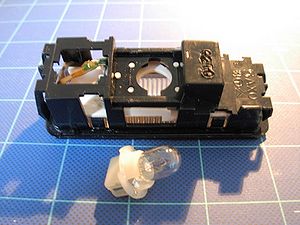 Standard blub shown on the left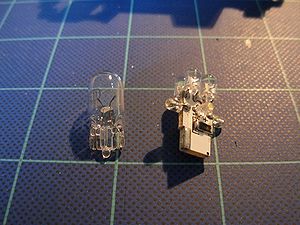 As you can see the LEDs on the side stick out just a bit more than the contacts of the holder.
Take the whole lot of light housing apart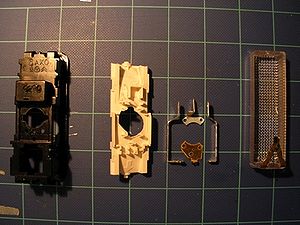 Attack Housing with a dremel and enlarge the bulb holes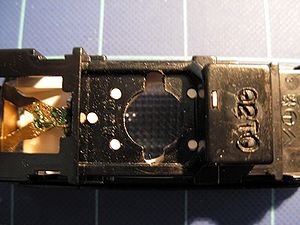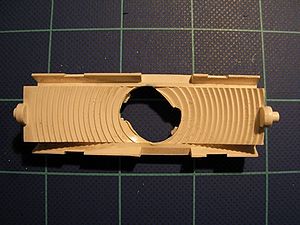 Put all clips back together and jobs a carrot.