Lotus Racing Exige V6 Performance Parts
Following the release of the eagerly awaited Lotus Exige S, Lotus Racing have been working on a selection of performance upgrades and parts to enhance the safety, handling and performance for track day applications[1].
Chassis
2 Way Adjustable Spring and Damper Car Kit
Part No: ALS9Y0002F
Price: £2,495
Front and Rear Towing Eye Kit
Part No: ALS9Y0003F
Price: £195
Interior
6 Point Harness Kit
Part No: ALS9Y0006F
Price: £345
FIA Fixed Seat Runner Kit
Part No: A128U0047S
Price: £141.42
Harness Bar and 4 Point Harness
Part No: ALS9Y0001F
Price: £395
Race Seat, FIA Hans Approved 'V6 Cup' Logo
Part No: ALS9V0001F
Price: £995
Race Seat, FIA Hans Approved 'V6 Cup R' Logo
Part No: ALS9V0002F
Price: £995
Quick Release Steering Wheel and Boss
Part No: ALS9Y0004F
Price: £495
Powertrain
Baffled Wet Sump
Part No: ALS5E0149F
Price: £1,495
Sports Exhaust
Part No: LOTAC05504
Price: £682.49
Miscellaneous
70L Fuel Cell Kit
Part No: ALS9Y0005F
Price: £1,980.18
Brake Upgrade Kit
Part No: ALS9Y0007F
Price: £2,295
Performance Brake Pads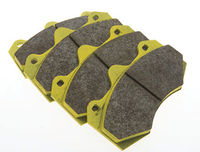 Front Part No: ALS5J0140F Rear Part No: ALS5J0177F
Pagid track pads with improved frictional coefficients for improved bite. Compound also improves fade resistance whilst maintaining good wear rate characteristics. Supplied as an axle set.
Price: £225

Polycarbonate Rear Window
Part No: ALS3B0133K
Price: £245
Triple Bypass Radiator
Part No: ALS3K0034F
Price: £307.33
Coming soon
Ohlin Adjustable Race Dampers
Carbon Rear Tailgate
Lightweight Battery
Performance Road Tyres
High Downforce Carbon Rear Wing
Stiffer Engine Mounts
Xtrac Sequential Gearbox with Paddleshift
Contact details
For further information please contact Adrian Kent - Parts Department
Telephone: +44 (0)1953 608980
Email: [email protected]
All prices exclude VAT, delivery and local taxes. All parts shown are for track use only and may effect standard vehicle warranty.
References